Free cloud storage has really taken off thanks to fast, reliable internet connections. The appeal is understandable: you can store your files online and then access them from any device that's connected to the internet, including desktops, laptops, tablets and smartphones.
You can also back up important files to a remote location (essential in case your own hardware is damaged or stolen), and share files with friends, family and colleagues by simply sending them a link.
The only problem is choice. There are so many free cloud storage services to choose from, it can be hard to decide which is right for you.
Size isn't everything, so as well as capacity, we've also considered the security offered by each service, multi-platform support, ease of use, and any limitations on file size or bandwidth. On with the evaluation…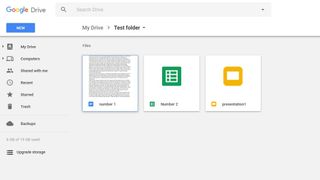 Heavyweight cloud storage offering tied in with G suite apps
15GB of space for free
G Suite tools
Backup and Sync desktop app
Free storage allowance: 15GB (expandable)
If you're a Google user, you already benefit from Google Drive integration, such as the ability to save email attachments from Gmail. However, anyone can sign up for the free cloud storage, even if they don't have a Gmail address, by creating a new Google account.
With 15GB of space for new users, Google Drive is one of the more generous cloud offerings, and there are occasional ways to boost this capacity free of charge. The catch is that this Google storage space is also shared with a user's other Google services including Gmail and Google Photos.
Mobile apps are available to allow easy access for iOS and Android users, and Google's Backup and Sync desktop app lets you synchronize files from your PC to the cloud. Google Drive also includes online office tools for word processing, spreadsheets and presentations which can makes sharing files with others effortless.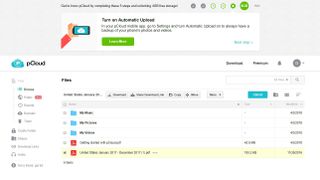 A smart service with a slick online interface
Easy-to-use sharing options
Smart desktop and mobile apps
Plenty of options to boost your free storage
Free storage allowance: 10GB (expandable)
You might not recognize the name, but if you're looking for a decent chunk of cloud storage free of charge, pCloud could be just the ticket. To kick things off, you're given a fairly generous 10GB to play with, and there's a bandwidth allowance of 50GB of downlink traffic per month.
While we're primarily interested in the free version of pCloud, note that you can upgrade to 500GB of space for a monthly plan of $4.99 (£3.70), or 2TB for $9.99 (£7.50) a month – both of which are great deals for storage. You also have annual and lifetime plans, which are a cheaper option in the long run.
The initial 10GB free offering can also be expanded up to 20GB via an additional 4GB for completion of offers, as well as referrals that add 1GB each. It's also worth noting that pCloud offers well-designed desktop and mobile apps that supplement the website for seamless integration into a user's workflow.
With no limit on file sizes, and simple sharing options, pCloud is a great way to send large files to friends and colleagues – it's even possible to share with people who aren't using the service themselves. Add in decent streaming options and a neat online interface, and pCloud is well worth a look.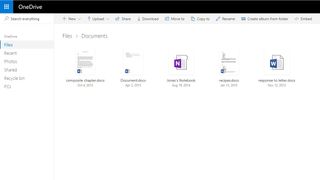 Another sterling storage solution, particularly for Windows users
Great integration with other Microsoft products
Can edit files online without downloading them
Only 5GB of storage by default
Free storage allowance: 5GB
Coming from Microsoft – a company with plenty of money to throw at the cloud – it's a little disappointing to find that OneDrive doesn't include more space free of charge. Free users get a mere 5GB of storage, although it's relatively inexpensive to increase this to 50GB.
If you have Office 365, you'll automatically get boosted to 1TB of space, but not everyone wants an Office subscription.
Like Google Drive's appeal to Google users, OneDrive will be a good fit for anyone who is committed to using Microsoft's services. There's neat integration with Outlook.com, for instance. OneDrive also ties in nicely with Windows 10, and there is a selection of reasonable mobile apps to facilitate access on the move.
It's possible to share files with other people even if they aren't OneDrive users (complete with customizable permissions), and the ability to edit files online without downloading them is a welcome touch.